Jurassic World: Dominion Dominates Fandom Wikis - The Loop
Play Sound

OG Loc's OriGinal is a mystery and an Easter egg in Grand Theft Auto: San Andreas and Grand Theft Auto V.
Description
Early Life
OG Loc, born as Jeffery, was grown up in Grove Street and was a friend to Sweet, Ryder, Big Smoke, and Carl Johnson. OG Loc, in his initial times, wanted to join the families and become a gangster criminal, however, his decision was confronted by the leader, Sweet and Big Smoke, who wanted OG Loc to attend college instead, citing that he doesn't have what it takes to be a gangster. OG Loc, however, disagreed with the duo.
"

OG Loc: OG Loc! Now that's a gangster name, man. Like Sweet, or Big Smoke.
Big Smoke: Jeffrey, you ain't no gangster.
Sweet: Man, you ain't never put in no work for the set. You a friend, but you ain't no gangster

"

–An extract from the conversation where Smoke and Sweet mocked OG for not having the gangster factor in him
Events of 1992
During his time in Los Santos, OG Loc was caught up in prison for violating petty traffic rules in order to establish his image as a street gangster and rapper, until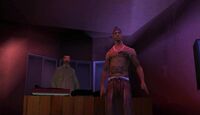 he got released and was later picked up from prison by Grove Street members including Carl Johnson. Carl then went to do several of OG Loc's affairs and stole a rhyme book from Madd Dogg's studios, as a result OG Loc released a new album called Str8 From Tha Streetz, which gained him enough attention as a rapper in Los Santos. During Carl's time in Los Santos, OG Loc threw a House Party and rapped for the hood, this rap was received awfully with Ryder and Carl Johnson mocking the rap and leaving the house party to hang out with the rest of party attendants Sweet and Grove Street members on Grove Street. They later confront an invasion from Ballas, successfully.
"
Yeah, yeah, yeah... This is me, OG Loc, in the house, baby... And I'm gonna... drop it down for all my real gangsta n*ggaz... All of my gangsta bitches...
"

–OG Loc's rap in the house party, these lyrics were not used for any of his songs and it is likely he made it up by himself
After the separation and downfall of the families by Big Smoke, OG Loc was funded by Smoke who used OG Loc's interview to promote his false image as a philanthropist and anti-drug promoter in town.
However, after Carl's return to Los Santos and partnership with Madd Dogg, the duo chased OG Loc who later extorted for Madd Dogg's rhyme book and royalties from his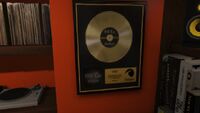 album. OG Loc suffered a major drawback with this fraud exposure with Madd Dogg climbing up the ladder once again with record awards.
Aftermath and Mystery
The aftermath of OG Loc remained a mystery until the discovery of an Easter egg from Grand Theft Auto V. OG Loc's name can be found on the Vinewood walk of fame and his new album OriGinal was also discovered in the game. This clears up the fact that OG Loc went on to achieve his credibility again by releasing his new album. It is unknown and debated whether this album as the name says, is original or just stolen from some other rapper like the past times.