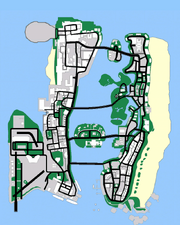 Grand Theft Auto: Vice City
has a cult following in the myth hunting community, and the game is home to many classic myths.
GTA Vice City
has copious authentic myths. Similar to 
Grand Theft Auto III
,
Vice City
lacks a countryside, desert and forest. However, there are still numerous myths and other easter eggs out there that are said to exist in Vice City.
Note: When adding to this list, please put the myth in its corresponding category and in alphabetical order. 
City Districts
Locations
Creatures and People
Game Characters
Cryptic Myths
Movies, TV and Radio
Vehicles
Weapons
Other Myths
See Also