Jurassic World: Dominion Dominates Fandom Wikis - The Loop
Play Sound
Leafy Hollow is a mythical location in Grand Theft Auto: San Andreas.
Description
Leafy Hollow is located in central Flint County, just north of the southern part of Sasquatch Creek, nestled in a gully south of The Farm, a suspected Epsilon Cult hotspot. The property belongs to The Truth and is used to illegally grow marijuana.
The location plays roles in several missions for The Truth. Its last mission appearance in the mission Are You Going To San Fierro? features The Truth ordering CJ to burn all of his illegal marijuana crops before the police arrive. After this mission, The Truth never returns to the farm, and it remains totally abandoned for the rest of the game.
This location is a common breeding ground for myth encounters. The first myth is that players believe the Green Goo is hidden somewhere on this abandoned property, and the second most common myth is that there is a secret packing facility for the marijuana grown there inside or beneath one of the structures on the property. Exactly north of the farmstead is a tunnel servicing San Fierro, where the supposed Tunnel Creature is known to reside.
Secret Packing Room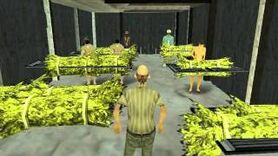 The Secret Packing Room is a myth that claims there is a hidden room inside one of the buildings on The Truth's farm. This room is said to contain harvested marijuana from the property that is packaged and then transported by a van to San Fierro and other cities throughout the state. If the player enters the room, the workers would turn aggressive and attempt to kill the player. Players initially theorized that the room would be accessible through Blue Hell. However, there is no video evidence to prove this place exists.
Hidden Green Goo
The Green Goo, originally stolen by CJ in its eponymous mission, is said to have been taken back here by The Truth immediately after the mission. The Truth is obsessed with aliens and conspiracy theories about the government so he might believe the Green Goo has something to do with aliens. Since the Green Goo is not seen anywhere after that mission, players believe that The Truth took it to his farm. However, because CJ met the Truth at the Verdant Meadows airfield, that is a more likely location. The exact location of the Goo is unknown.
Trivia
During the mission Are You Going to San Fierro? a red beat up Sadler spawns at this location.
Gallery