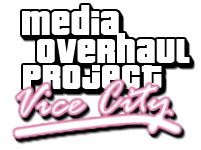 Many photos on GTA Vice City articles are extremely low quality, and many of them need to be replaced. This project primarily deals with Locations, Vehicles, and Characters, as images for creatures require the use of mods or photoshop and thus aren't placed with such high authority. Any user may add their images as long as they update the list on this page and follow these few rules:
Location and angle must match original photo as close as possible, but you don't need to worry about other variables such as time.
HUD and Radar must be disabled for a clear photo.
Please use the first person mode of the Rocket Launcher when taking photos.
The resolution of these photos should be 1024 by 768 minimum. Larger photos are allowed if the possibility is open to you.
When uploading your image to the wiki, please use the PageName.png format. If a duplicate article exists, you can use the format PageName-GTAVC.png instead.
City Districts
Locations
Community content is available under
CC-BY-SA
unless otherwise noted.