The GTA Myths Wiki Hall of Fame recognizes the most accomplished users in the Wikis' history. Users that have made substantial contributions that have contributed to the Wikis' success as the main source on the web for GTA Myths. Users inducted into the Hall of Fame is a rare occurrence and is reserved for only the most elite editors who have played a major role in making the GTA Myths Wiki what it is today. As users inevitably fall into inactivity and leave the wiki this page will be a tribute to those editors who's collaborations and efforts to make myths a more main stream topic in the GTA series.
Procedure and Qualification
The process of being inducted into the Hall of Fame involves a sitting Bureaucrat to petition for a user to be inducted. A Bureaucrat only vote will commence to determine if the selected user is to be inducted. The vote will take place on the Community Noticeboard where other users may leave a comment but are barred from voting.
Content in the Hall of Fame such as the inductees biography, is only to be edited by Bureaucrats.
Solicitation to a Bureaucrat in hopes of getting into the Hall of Fame is forbidden and will hurt your chances of ever being inducted.
Users
Father of the wiki
Inducted: October 27, 2015
Sasquatch101 is the founder of the GTA Myths Wiki. After creating the wiki November 28, 2012 Sasquatch has built the wiki to what it is today with his great leadership, myth knowledge, and excellent myth hunting skills. Sasquatch has created more articles than any user to date totaling over 170 pages. An accomplished myth hunter, Sasquatch has encountered many GTA myths, including the legendary Bigfoot on two separate occasions in 2011. Sasquatch has been interviewed about those two encounters by New Yorker Magazine in 2013 (under the name Rob Silver), describing it as an "out of body experience". Sasquatch is known for his wise and relaxed personality; keeping calm even in the most turbulent of times. However, he lives by the Policy, and will not tolerate any user who doesn't. Any user can comfortably go to him if they need help, or if they have to settle a dispute; easily giving him the title "Father of the Wiki". This legendary user is a great role model for any aspiring myth hunter, and arguably one of the best GTA myth hunters of all time.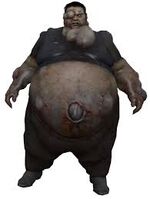 The Enforcer
Inducted: November 4, 2015
Boomer8 is a senior editor on the GTA Myths Wiki. He joined February 3, 2013 and from then on has discovered many myths such as The Swamp Monster, Goatman and many more in addition to upholding the values and standards of GTA Myths Wiki. Boomer began as a simple editor who loves myths, then moved up the ranks to Patroller, Administrator and eventually Bureaucrat. Boomer holds himself to a high standard and expects nothing less from other users. He is known for having a zero tolerance approach when it comes to disruptive editing and vandalism thus making him the wiki's "enforcer" of the policy. All Wiki staff uphold the Policy however, Boomer has shown tremendous fortitude in not "caving in" when vandals were rampant across the wiki at one time. Boomer's loyalty to the Wiki and his fellow staff have added to his already legendary reputation.
The Informant
Inducted: November 7, 2015
LS11sVaultBoy is one of the most accomplished users in GTA Myths Wiki history. He joined December 28, 2012 just one month after the GTA Myths Wiki was created. VaultBoy is credited with creating the Wiki's badge system which rewards users who edit the wiki with points, images and themes tailored to GTA Myths. VaultBoy is currently the fourth highest ranking user on the Wiki's leaderboards with over 6,000 points and second in edits on the Wiki totaling over 7,000. He was also the first user to reach this amount. When the Wiki was under attack from rouge staff members conspiring to take over, VaultBoy took action and informed Sasquatch, and what was left of the shaken community, of the corruption and back door deals happening off-site. Through VaultBoy's incriminating evidence he offered up, the Wiki was able to terminate the individuals involved which brought the Wiki back to a period of peace and prosperity. VaultBoy served as Administrator for over two years before reaching Bureaucrat on December 28, 2015, the 3rd anniversary of him being a user here, before he resigned on October 8, 2016. VaultBoy's commitment to the Wiki, and his outstanding contributions have made the GTA Myths Wiki what it is today.
The Specialist
Ali Rocky is one of the most prolific users in the history of the GTA Myths Wiki. He joined July 23, 2013 and from then on has amassed more edits than any user on the Wiki to date, totaling over 10,000 before he resigned. Even after his departure, Ali still holds the top spot on the Wikis' leaderboard with over 9,000 points. Perhaps most impressive is the sheer number of myths Ali has found and chronicled, specifically in Vice City games. Ali has created over 140 articles; most of them relating to GTA Vice City. When Ali first came on the scene the Wiki practically had a nonexistent category for Vice City myths. Ali considered Vice City his specialty when it came to myth hunting, and had been investigating Vice City myths since 2003, thus making him the Wikis' Vice City Specialist. Ali served as a Patroller for less than a month in January 2014 before resigning after harassment from the conspirators in the community for denouncing them. After a hiatus, Ali returned and reclaimed his position as Patroller in July 2015. He then was promoted to Admin December 2015 until he resigned August 21, 2016. Ali's commitment and loyalty to the GTA Myths Wiki has never stopped, as he continually strived for excellence.
The Professional
MythHunter2013 is one of the most impactful myth hunters to date, with his theories and myth hunting knowledge, he was able to gain recognition early on as a Professional myth hunter. He joined the wiki July 7, 2013 and was one of a handful of editors actively editing the GTA Myths Wiki. He brought two of the most debated myths, Ratman and Darkel, to new heights of popularity with extensive analysis and video production. His discovery of the Killer Cowboy, is one of the most popular in San Andreas myths. MythHunter2013 then rose up to Patroller, eventually being promoted to an Administrator and served as one of the longest running admin in the history of GTA Myths Wiki. He then launched his youtube channel, which no doubt assisted the wiki to gain a colossal amount of new users and shed light on the most perplexing myths in the game. MythHunter2013, has since faded away from the wiki to pursue other interests but his name is not forgotten, and the myths he brought out of obscurity live on as a testament to his commitment to myth hunting.
TBA
| | |
| --- | --- |
| | This article or section is Under Construction. |
Community content is available under
CC-BY-SA
unless otherwise noted.