Jurassic World: Dominion Dominates Fandom Wikis - The Loop
Play Sound

Arco del Oeste is a mythical location in Grand Theft Auto: San Andreas.
Description
Arco del Oeste is a large rock formation located in the northwestern quadrant of Bone County, near the border with Tierra Robada. The peninsula consists of a main large mesa, a few minor rock formations, as well as a natural arch. There was a small mining community in the area, and the remnants of it can be found with a few small derelict homes and a mining complex located east of the natural arch. On the southern end of Arco del Oeste lays a small homestead and a dock, reminiscent of the Abandoned Dock. Arco del Oeste is the primary location of Mothman encounters and there have been a few small sightings of Mr. Trenchcoat on the abandoned dock. The Truth is a known common visitor of the plateau and in the mission Black Project, CJ delivered the Jetpack to him there.
Mothman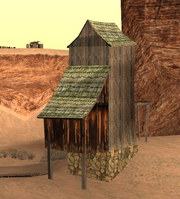 Arco del Oeste is a very high and isolated area of the desert, with most of the state of San Andreas being visible. Because of this, Mothman encounters are extremely popular in the area, along with the nearby Sherman Dam.
There is an abandoned mining facility located on the mesa that has been coined the Mothman House by fans. Supposedly, the home belongs to Mothman, because there are no doors on the ground level, and there is a small dock high off the ground. Players say that Mothman is a flying creature, and so it would fly to this otherwise inaccessible spot. However, because the Mothman House is a mining facility, and is most likely decades old, it can be assumed that the area is raised so high simply because there was land there before, and thanks to the effects of erosion, it has decayed over time. The building does have a few cracks and holes that allow the interior to be seen, but the building appears to be hollow with no actual interior placed in.
There is another fan rumor known as the Mothman Stunt. According to this, the player must damage their vehicle significantly, then drive towards the stunt jump in the area, and jump out in mid-air. It is claimed that this near-death experience will cause Mothman to spawn. Tests have shown that this theory is incorrect.