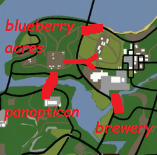 Leatherface is my favorite slasher killer (you can tell by my profile picture) and a part of it, is because his story in the Texas Chainsaw movies isn't only about him but his family as well. So I, as a fan of the movies thought maybe Leatherface isn't alone in San Andreas. This speculation is however based on both the original TCM movie and its sequels, and the 2003 remake, which was released only a year before San Andreas, and since San Andreas was developed a year before the movie, the developers might have added a possible Easter egg. Let's start.
First of all the location, most myth hunters agree that Leatherface would most likely spawn in Panopticon, and I think that Rockstar made that place specifically for the Leatherface easter egg, as there is blood on the floor, and chainsaw sounds for atmosphere. But the main point isn't Panopticon, but the locations around it.
Closest to the Panopticon is Blueberry Acres, a large farm. In the 2003 Remake, the Hewitt farm, where Leatherface and his cannibalistic family reside, in part resembles the Hewitt farm, being a large farm with similar looks, being surrounded by hay and have a factory close to it.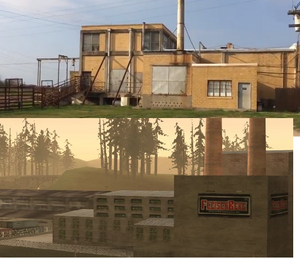 And the third point is, the Factory, in the 2003 film, the house is close to a slaughterhouse, which after going out of business is the main reason why the Hewitts eat people. In GTA SA, it is a brewery, the FleischBerg, which like the farm, partly resembles the 2003 slaughterhouse. Fleischberg also means "Meat" Mountain in German.
Tying the theory with Romero family
The Romero family shares the similar story with the Hewitts, with both being families skinning and butchering human bodies and possibly being cannibals. Another fact is that in the original Texas Chainsaw Massacre, the Sawyers (family in the original movie) sell human organs at a local BBQ joint that they own.
So thats the theory, leave your thoughts, I think this all is an intentional Easter egg that Rockstar included to honor the TCM series.