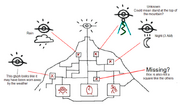 As you can see here in this drawing, cracked egg has a direct connection to all seing eye.
All seing eye can be seen in Altruist Camp. We all know that cracked egg represents Trevor, right? Yeah, and there are many all seing eye drawings in Altruist Camp.
It tells that, Trevor (cracked egg) is connected to the all seing eye (Altruist Camp). With connected I mean that he is the only one character who won't get attacked if he enters the Altruist Camp, however other characters will.
With this theory, we can now examine more about Jetpack.
Franklin who represents Jetpack and Michael who represents the UFO, will not enter the Altruist Camp without getting attacked, so that's why the lines don't go direct to the all seing eye.
-By Mantiix and Andrey